Computing Delta surveyed more than 180 end users of different unified communication and collaboration (UCC) solutions. In this article we compare answers to find the winner from market leaders: Microsoft vs Zoom vs Cisco.
The marketplace for UCC - the combination of communications and collaboration tools into one solution - was already developing strongly prior to the pandemic. However, the pace of growth has accelerated as offices closed and employees adjusted to working full time from kitchen tables, bedrooms and home offices. UCC's value has skyrocketed in the last 18 months: 84 per cent of participants said they considered it more important since March 2020.
 The vendors dominating the UCC market are a mix of the decidedly familiar - Microsoft 365 (M365) and Cisco Webex - and upstarts like Zoom, which went from being unheard of by the majority of individuals in 2019 to being the fastest-growing brand of 2020, and synonymous with video calling.
As part of Computing Delta's ongoing research into Microsoft versus Zoom versus Cisco - and other UCC products and services - our research team has been asking senior IT professionals about their preferences to help you answer the question:
Which UCC solution should I choose?
Computing Delta's analysis of this market, with interviews with more than 180 senior IT leaders using UCC technology, is available to Delta subscribers. More information, including comparisons with other vendors, is available in the Unified Communication and Collaboration Report. If you are looking for a platform comparison, this article provides a brief summary of the market leaders Microsoft vs Zoom vs Cisco.
What's the difference between Microsoft 365, Zoom and Cisco Webex?
Approach: All three platforms include video, audio, chat and file-sharing functionality. M365 integrates with the Microsoft cloud and various productivity apps, for real-time collaboration; Cisco is similar but prioritises on-premise integrations. Zoom specialises in audio and video, as well as large-scale event functionality.
Deployment: MS365 and Zoom are pure cloud platforms, while Cisco offers products for both on-premise (Cisco Unified Communications Manager) and cloud (UCM Cloud).
Ease of use: Microsoft is seen as the easiest app to use, although Zoom - with its clean UI - is a close second. Cisco rated poorly.
Pricing: Although Zoom has a generous free tier, Microsoft performed better on pricing overall thanks to its wide range of features and affordable tiers. 
Adoption: M365 is widely used, boosting the adoption of Teams and other Microsoft tools to a level its competitors cannot match.
Microsoft vs Zoom vs Cisco - the background
It is hard to overstate the advantages that Microsoft has over its competition in the UCC marketplace. Microsoft has a huge existing installed base, thanks to Active Directory and Office 365 (now Microsoft 365). Microsoft Teams, which has replaced Skype for Business, slots seamlessly into the Microsoft identity, directory and productivity stack. From the perspective of users working at home, the integration of Teams into SharePoint and OneDrive enable tasks like file sharing.
Not only did Microsoft poll the greatest awareness of their UCC solutions (the closest in terms of awareness was Zoom, with 71 per cent in contrast to Microsoft's 85 per cent), the proportions trialling M365 and Teams, then progressing into production, were almost triple that of Zoom and Cisco.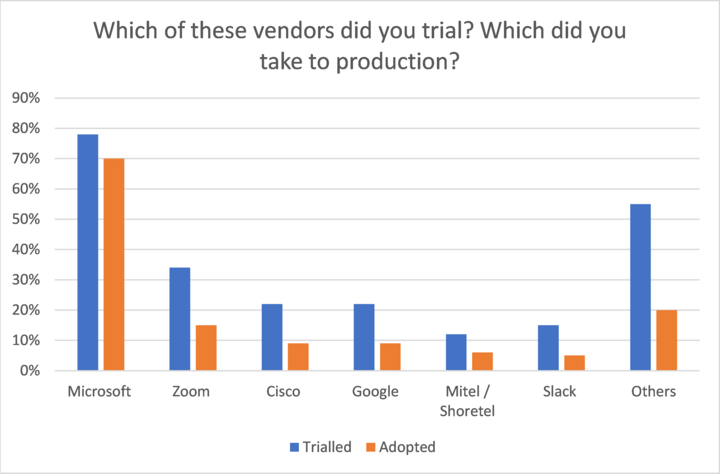 In fairness, direct comparisons between these vendors are difficult - which is why many of the organisations represented in our research used more than one UCC solution. While Microsoft Teams is part of the wider Microsoft cloud, Zoom is a more simple unified communications platform with video, audio conferencing and chat, plus much larger webinar functionality. There are many application integrations available but it's a more fragmented proposition overall.
Cisco Webex and Microsoft Teams are more comparable in terms of functionality (and cost), but Cisco's core strength is its networking and telephony installed base.
Microsoft vs Zoom vs Cisco - the tools
Of the three vendors under discussion, only Cisco offers its Unified Communications Manager products as an on-premise or cloud hosted product, in addition to the Webex cloud platform. Microsoft 365 and Zoom are purely cloud platforms.
For every single aspect of UCC functionality, Microsoft scores significantly more highly than its closest competition, as the graph below illustrates.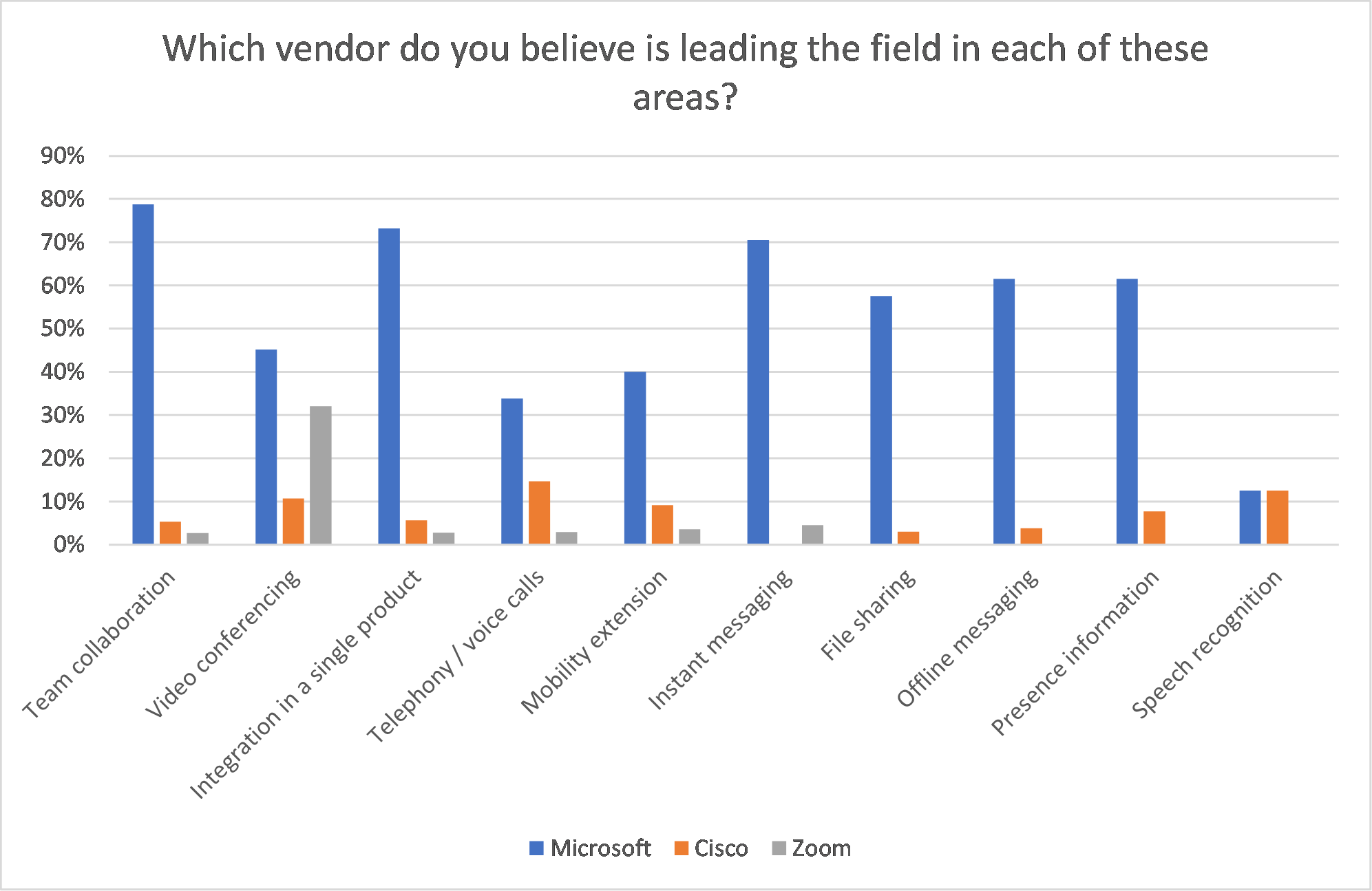 Microsoft
Microsoft Teams is the communications platform included within the Microsoft 365 cloud. Microsoft licences the product differently depending on whether you are a home, education, business or enterprise customer. M365 Enterprise brings together the Office 365 productivity options with Windows 10 Enterprise and Enterprise Mobility and Security.
Teams integrates with the productivity applications most of us highly familiar with. It includes chat and voice calling, as well as a shared workspace where users can edit their Microsoft files in real time.
M365 and Teams garnered a great deal of positive feedback, particularly on integration with the wider Microsoft stack. Negative sentiment was, mainly, for commercial reasons, although a small number of users commented on software bloat, a complex and frequently changing UI, and reliability issues.
Zoom
Zoom is a unified cloud communications platform. Its audio and video conferencing functionality, plus generous free tier, has propelled astronomical growth throughout 2020; but it also offers chat and large-scale conferencing and events functionality. It also has a large marketplace of integrations, including with Microsoft Teams and Slack.
Zoom licensing is straightforward, with free, pro, business and large enterprise editions. Zoom's simplicity is it's big strength. Its user-friendly and simple-to-navigate UI won praise, as did its stability and ability to host large scale events. Negative comments included a US-centric focus and cost of the premium tiers.
Cisco
The on-premise version of Cisco Unified Communications Manager includes telephony, video, messaging and presence. UCM Cloud is hosted in Webex data centres and extends office functionality to remote and mobile workers. Cisco also offers UCM on a hosted private cloud option.
WebEx has been around for a long time, and UCM Cloud will feel very familiar to businesses used to Cisco's telephony and conferencing tools. Like Zoom, Cisco has built an extensive library of integrations, including with Microsoft and Google.
Cisco users emphasised the integration capabilities and the stability and robustness of the Cisco platform. Support was also a strength. However, the complexity and expense of the Cisco suite were the most frequently cited drawbacks.
Microsoft vs Cisco vs Zoom - at a glance
| | | |
| --- | --- | --- |
| Vendor | Positives | Negatives |
| Microsoft | Integration with AD and productivity applications | Outages |
|   | Rich functionality | Complex UI |
|   |   | Inflexible licensing model |
| Cisco | Stability | Expensive |
|   | Integration with on-premise telephony and networking | Complexity and management burden |
| Zoom | Simple UI | Expensive at scale |
|   | Handles large virtual events smoothly | Minimal UK support |
|   |   | Regulatory concerns |
Pricing
Microsoft Teams
The free version of Teams can host up to one hundred participants, but it is likely unsuitable for anything other than smallest businesses due to the lack of important features, like enterprise security and 24 x 7 support. However, most firms will be signed up to Microsoft's M365 cloud anyway, which includes Teams.
Microsoft has multiple licensing packages available within both Business and Enterprise licence families. Prices range from £3.80 per user per month for Business Basic, right up to £48.10 per user per month for the full Enterprise E5 suite.
Licence bundles have been very successful in terms of growing the M365 cloud, but participants in our research often cited the complexity of the licencing model and Microsoft's inflexibility when it comes to negotiation.
Zoom
Zoom has a very clear and simple pricing structure, which is likely to have played a part in the company's rapid growth trajectory when video calling became essential. There is a free product, but the 40-minute time limit on meetings limits its usefulness. The Pro licence comes in at £119.90 per licence per annum and allows up to one hundred meeting participants, social media streaming, recording etc. Business costs £159.90 per licence per annum, adding single sign on and another 200 participants, as well as recording transcripts. The final level is Enterprise, at £192 per annum with a minimum of fifty user accounts. Enterprise-scale firms can host up to five hundred participants and benefit from unlimited cloud storage.
The sentiment around Zoom is best surmised as, "Great VC platform but expensive to scale in the longer term."
Cisco
Licensing and pricing for enterprise-sclae Cisco deployments are as complex and flexible as the deployments themselves and impossible to quote here on a per user/per annum basis. However, what we can do is examine WebEx suite pricing, which is broadly comparable to Zoom and Teams in terms of features and functionality.
Again, a free version is available for up to one hundred users, but the product is limited to 50-minute video calls and online support only. A Starter package, at £11.25 per host per month, provides almost the same functionality in terms of audio calls, messaging and collaboration as the more expensive business and enterprise levels, but is limited to up to 50 host licenses. Business, at £22.50, allows up to one hundred host licences. Any organisation requiring more than one hundred host licences will need to subscribe to the Enterprise service, for which list prices are not published.
Cisco licencing was considered complex, inflexible and expensive by many of the organisations participating in our research.
Conclusions
One of the most telling findings in our UCC research was that the vast majority of those who participated used more than one UCC solution. Thirty-seven per cent used two, and 21 per cent used three. A handful used up to four or five separate solutions. On the one hand, this does call into question the idea of 'unified' communication and collaboration. However, after examining the relative strengths and weaknesses, pricing and licencing of the three leading vendors it makes perfect sense.
If you've paid for MS Teams (and you probably have) then you may as well use it, particularly if you need to share and edit Microsoft files (which you probably do). It integrates perfectly with the hybrid and cloud infrastructures that dominate the enterprise technology landscape. However, many end users find it less user friendly and robust than something like Zoom, which offers a simple, stable VC platform suitable for one-to-ones as well as larger team calls. It will be interesting to see whether Zoom continues to pick up new users over the next year as we all gradually (hopefully) return to offices at least some of the time. Did it just fulfil a specific need, and will those annual subscriptions be renewed in 2022?
Cisco is likely to have scored as poorly as it did in our research at least partly because one of its biggest strengths is how well it integrates with physical networking and telephony - not something that has been a huge priority over the last 18 months. The same factors which may cause a drop off in Zoom subscribers may well work in Cisco's favour over the same period of time - although on-prem popularity has been declining for years.